Adult-use cannabis is gaining momentum across the United States as more states jump on the legalization bandwagon. As of this writing, 23 states have legalized adult-use cannabis, and an additional 15 states have allowed the sale of cannabis for medical purposes, for a total of 38 green states.
Texas, on the other hand, still has severe possession penalties. Less than 2 ounces is a misdemeanor, and 2 to 4 ounces carries a fine of up to $2,000 to $4,000. Possession of 4 ounces or more It's a serious crime He faces a $10,000 fine and two to 99 years in prison. And it's just for owning.
The Texas Compassionate Use Act of 2015 approved quasi-medicinal use and only allowed treatment with low-THC cannabis oil at a maximum concentration of 0.5% for epilepsy. Since then, many patients have been diagnosed with diseases such as terminal cancer, autism, multiple sclerosis, amyotrophic lateral sclerosis (ALS), seizure disorders, and incurable neurological diseases such as Alzheimer's disease, Parkinson's disease, Huntington's disease, and PTSD. The number of diseases for which THC has been approved to treat is increasing. At the same time, the permissible concentration of cannabis oil has increased to a still minimum of 1.0%.
So what's holding the Lone Star state back? And what can we do to fully legalize both medical and adult-use cannabis? It is in the Texan spirit that has developed a strong independent streak. Should we legalize marijuana just because 75% of other states have already done so? If your friend jumped off a cliff, would you jump off a cliff too?
Texas is the only state that was its own country. Texas became the Republic of Texas when its leaders declared independence from Mexico in 1836, and General Sam Houston defeated Mexican General Santa Anna later that year. Although many Texans wanted their country to join the United States, there was strong pressure within the new republic to remain an independent nation.It took 9 years The heated debate before Texas entered the Union.
Fast forward 178 years later to 2023, and much of the heated debate currently taking place in Texas revolves around cannabis. Some Texans believe the push to legalize adult-use marijuana is a moral issue and that it's the state's responsibility to hold the line against what they see as a gateway drug. others claim Cannabis is beneficial as a safe alternative to opioids for pain relief and is already readily available on the black market.
Several recent cannabis bills: HB 1805, which expands eligible medical conditions and defines per-dose THC limits rather than percentage limits, and HB 218, which decriminalizes cannabis, are both expected to pass to states in April 2023. It passed the House of Representatives. The bill died in the Senate after Lt. Gov. Dan Patrick, who presides over the chamber, refused to refer the bill to a state Senate committee for review.
"We're always listening to health issues, but we're not going to bring this to California." Patrick said in 2021"Anyone can get a slip from their doctor, go to some retail store and say, 'I had a headache today and I need marijuana,' because it legalizes recreational use of marijuana. It is only a veil."
The Texas Legislature only meets every two years, with the next session scheduled to begin in January 2025. Texas does not have a statewide ballot initiative process, so only then can a statewide decriminalization and adult-use bill be passed.
Law enforcement has a stronger voice in public policy in Texas than in many other states, and law enforcement has expressed serious concerns about the decriminalization of marijuana in Texas.in Joint statement In 2019, the Texas Chiefs of Police Association and the Texas Sheriffs Association raised concerns that legalization would lead to an increase in crime, encourage a dangerous black market, and lead to increased use of other, more addictive drugs. expressed. They also opposed expanding the state's restrictive medical programs until "medical benefit is proven by verified, peer-reviewed medical research."
Despite these setbacks, public support for decriminalizing cannabis and permitting adult use is growing. December 2022 Poll Fifty-five percent of Texans support legalizing at least small amounts of marijuana for recreational use, and another 28% say it should also be legalized for medical purposes.
A February 2023 poll by the University of Houston found that 82% of Texans support passing legislation that would make marijuana available for a wide range of medical purposes with a prescription. The belief that cannabis is a "gateway drug" that makes people more likely to use other illicit drugs is losing momentum as well, with 70% saying cannabis makes people less likely to use other illicit drugs. The respondents answered that there will be no impact or there will be no impact.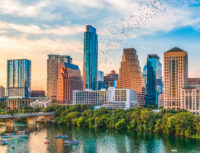 Voters in some cities passed local ordinances decriminalizing marijuana in 2022, but not all of these ordinances have been enforced by mayors or city councils. Austin is a large city. passed such a law And no one will ever be arrested or charged with misdemeanor possession again. Other cities, including Dallas, have gone as far as implementing citation-and-release policies that direct police to ticket people found in possession of less than 4 ounces of marijuana.However This policy To avoid being arrested and detained, marijuana owners must appear in court and face similar fines and possible jail time.
these individuals City and county initiativesDecriminalizing marijuana helps build momentum toward eventual statewide decriminalization when the Legislature returns in 2025.
The key to achieving statewide decriminalization and adult-use goals is implementing a multi-pronged approach that changes public perceptions of cannabis through education and driving economic benefits through increased jobs and tax revenue. there is.
Congressman Joe Moody has taken a unique approach to educating lawmakers and Texans. He recently sponsored HB 3652, was enacted under the Texas Cannabis Regulation and Taxation Act to begin a conversation about what the retail cannabis market looks like in Texas. Mr. Moody received a hearing before the House Licensing and Administrative Procedures Committee on April 26, 2023, during which a number of issues related to establishing a retail market in Texas were discussed, including a 10% cannabis tax.
Moody did not expect the bill to move forward, and ultimately it was not voted on. But that wasn't his goal. "Never before has a retail cannabis market bill received a hearing like this in the Texas Legislature." he told the committee. "Maybe we should get ahead of the curve because we're getting close to the time when this is the law of the land."
Many Texans who support legalization and the creation of an adult-use market are optimistic. Tara O'Connor of 420CPA ​​recently attended a cannabis executive meeting in Dallas. Texas Cannabis SummaryBilled as "one of the largest gatherings of cannabis business professionals in the South," the event drew nearly 200 people to enjoy delicious food and drinks, and hear speeches about legalization progress in the Lone Star State. It was packed with people. . The mood was upbeat. "The people here are really hopeful and vibrant," Tara commented afterward. "They really want recreational marijuana to come to Texas."
After all, Texans are an independent people who do things their own way. Decriminalization will take place when the people of Lone Star State are ready to tolerate it. And whether it's a fully functioning medical cannabis program with an adequate number of dispensaries and cannabis products strong enough to bring relief to everyone who needs it, or whether the state of Texas ultimately One question is whether to approve adult-use cannabis for the public. Certainly, such progress will occur in a time frame that is appropriate for Texas, and in a manner unique to Texas.